Kitchen Faucet Reviews
Unfortunately, I lack the time and the budget to get each and every faucet in the market, try it out and put up a well thought out kitchen faucet review. Nevertheless, I will be testing new faucets every now and then, uploading my take on various designs and styles. My hope is to create a meeting place for homeowners, designers and interior decorators, who can interact and share ideas, find inspiration and eventually buy a kitchen faucet of their liking. Every single faucet on this site is rated on various criteria such as functionality, design, warranty, extras, durability and more. It is my goal to provide a diverse and detailed range of reviews, with faucets in every conceivable budget range, starting from the lowest of lows to the designer end.
Feel free to browse around the site. You will find plenty of information on kitchen faucets starting from styling, to repair and maintenance. Plus, you can use my concise buying guide to select an exact kitchen faucet style and design, suited to your existing or soon-to-be kitchen. Also, feel free to leave comments and suggestions anywhere on the site, it will only help me improve my site and serve the community better
If you are just starting to shop around for a kitchen faucet, one thing is going to become clear to you early on: There are a lot of brands and products to choose from. When it comes to choosing a kitchen faucet, there are several conditions and features that you will want to keep in mind. For example, there are essentially two major types of faucets, these being deck-mounted faucets and wall-mounted faucets. You will also want to choose between one-handle faucets or two-handle faucets. There are also a number of different finishes, including bronze, chrome, nickel, and stainless steel.
The mid-range price tag means you are getting a solid faucet with a number of features, easy installation, and much more. Delta Faucet has a good reputation with their products. This faucet, which is ideal for vintage-style kitchens, is a good example of what we are talking about. The touch-clean spray holes and diamond seal technology means a faucet that provides performance and durability for a long time.
Moen is another brand name with a good reputation among contractors, homeowners, interior design experts, and others. Moen 7594ESRS offers motion sense technology, which makes using the faucet a snap. The faucet is also AC adapter powered, which means you can choose to run your faucet sensors on either AAA batteries (six total), or with the AC adapter that will be included with your purchase.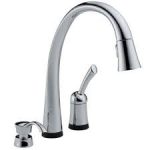 The best kitchen faucets
The workhorse kitchen faucet is often taken for granted — until it breaks. Just think of how frequently you and other household members use it to wash your hands, get a drink, scrub vegetables, rinse dishes, wet sponges, and more. Ideally, you want one that stands up to everyday use.
Choosing a kitchen faucet may seem like a mundane task, but it's actually important. You want the right kind to fit your needs and your kitchen's decor, and you don't want to simply opt for the cheapest model.
Valve Control: This is the mechanism that turns your faucet on and off, and adjusts the temperature of the water. Single-handle designs use one lever to control both temperature and flow, while double-handles have two (each handle controlling either the hot or cold water supply). Touch and motion-activated designs are convenient in a lot of ways, but they are dependent on a power source for their sensor.
Spout style: Choose from revolving or stationary, regular (steady stream) or two-mode (regular and spray), low arc (3 to 8 inches above the top of the sink), or high arc (also known as gooseneck, which is more than 8 inches above the top of the sink) models.
Spray head: The sprayer can be separate from and next to the faucet, or at the end of the spout. The latter type is either pull-down (often on taller faucets) or pull-out (which sometimes includes much of the spout itself).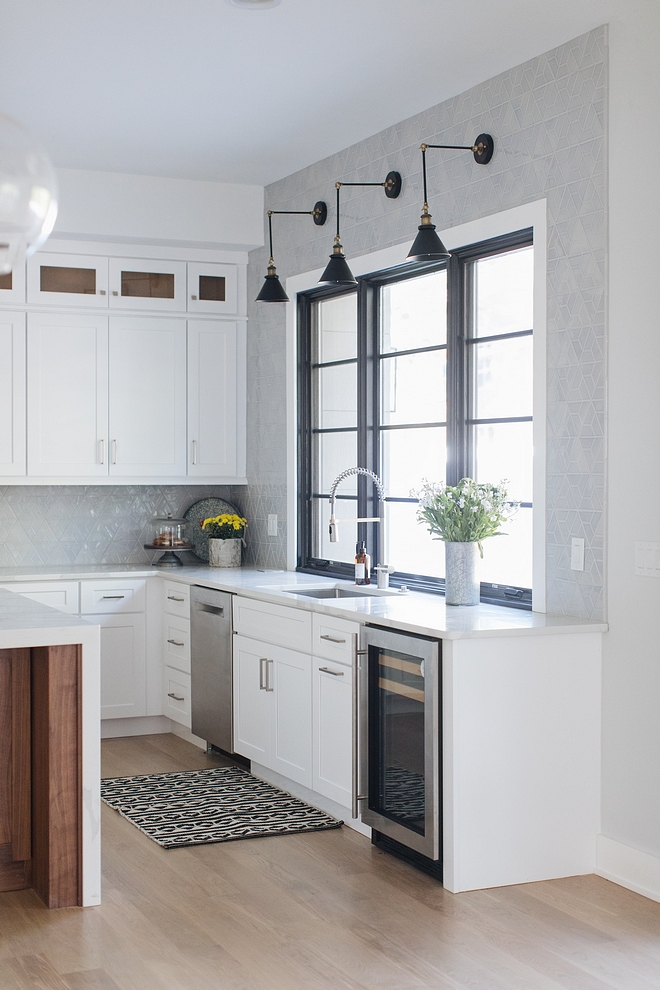 Best Types of Kitchen Faucets
The importance of having a good faucet in the kitchen cannot be overemphasized. In fact, any small problem with the faucet is enough to cause a significant amount of inconvenience to its users. This is the reason why home or establishment owners have to work hand in hand with professional contractors when planning a highly functional kitchen that is not prone to damage and other issues. Part of planning a functional kitchen is the installation of a good faucet
However, searching and determining the perfect faucet for your type of kitchen may prove to be daunting. To make this process a lot easier for you, we have the best kitchen faucets reviews for you to check out. Spoiler alert: You may fall in love with more than one faucet, so choose wisely
This faucet is perfect for people looking to have a faucet endowed with a metropolitan minimalistic design which is capable of accommodating tight backsplashes. Its visual angularity works beautifully with its clean, sleek and modern look. Everything about it never fails to enhance the interior surrounding where it will be installed.
It has a pull-out spray head mechanism along with its 1.8 gpm that gives you the chance to adjust the amount of water that goes out from its spray head. Plus, its toggle feature also enables people to toggle between a stream mode and a spray mode.
Delta Faucet Essa 91130 has all the basics that make faucets capable of giving the best cleaning experience for its users. There is more to its function rather than its form as it also ensures good sink access. It also boasts of easy clean features. This one is available in four different types of finish, with each design suitable for a 3-hole or 1-hole sink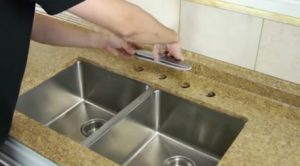 Choosing the right kitchen faucet
The fit: Start by examining how many holes are on your sink or countertop. This will determine the kinds of faucets you're able to choose from. Deck plates are used to cover up old holes, allowing you to go with a newer one-hole faucet, but more homeowners are choosing the clean look of a faucet without a deck plate.
The function: A good faucet is about much more than just looks – it needs to keep up with you in the kitchen and work the way you like. Test out different faucet styles to see what feels most comfortable. Do you like the straightforward function of separate hot and cold handles, or do you find it easier to use single-handle faucets? Would you really appreciate the convenience of a hands-free faucet, or are you looking for something more classic?
The finish: Basic faucets are the standard polished chrome, but there are so many more possibilities once you start to look around. Bronze and black finishes add drama and sophistication to a kitchen and brushed nickel while unpolished chrome finishes are sleek and modern. You can also get kitchen faucets with a beautiful slate finish.
The aesthetic: Instead of the standard side sprayer, did you know you could choose a faucet with a pull-down spray wand? Homeowners with minimalist kitchens love the clean design of these double-duty faucets.
The height: Chefs and foodies tend to choose faucets with a high arc – a faucet that's 8-10 inches above the sink – so they have plenty of room to lift pots and dishes in and out of the sink.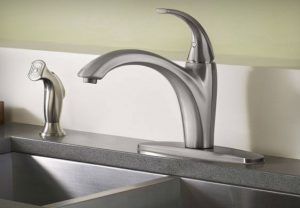 The Plumber: Down and out over kitchen faucet choices
I was looking to upgrade to a new kitchen faucet and wanted a faucet with a built-in spray head. I always called that type faucet a "pull-out" but now I'm finding out that there is a "pull-down" style as well. What is the difference?
For kitchen faucets with built in spray heads I'll break your question down to three types and give some advantages to each style. First, pull-out spray: This type pulls out horizontally and features a larger hand grip for easy control. Also is great for filling things like tea pots and pet bowls.
Finally, spring-loaded: This semi-professional style looks like a faucet you may see in a busy professional kitchen. The spout is basically a flexible spring and can be moved in every direction. So, if you're not sure about pull-down or pull-out, a spring-loaded can give you a new twist on your faucet choices.
We have a large master bathroom with a walk-in shower complete with a seat. For years I wanted to add a steam unit to this shower and figure now is the time. What are some bathroom basics to consider when adding a steam unit?
First, you'll be introducing extra moisture into the bathroom area and that moisture needs to be removed. So, work with your contractor to check if your bathroom fan and fresh air intake can handle the additional moisture. If not, exhaust fan upgrades may be required.