What to Know Before You Hire a Wedding Videographer
If you're considering hiring a wedding videographer to document the biggest day of your life, you no doubt have a big decision ahead of you. Just like choosing a photographer can be quite a process, deciding who to have filming your entire day is important too! As another big-ticket item on the wedding budget and one whose presence will matter long after the day is done, choosing a wedding videographer is not a decision to take lightly – but we're here to help! Read on for a few must-know tips to keep in mind before you hire someone.
1. Hiring a professional matters.
With so much technology available at our fingertips these days, it's easy to think, "I'll just have ___ (a friend or family member) take some video." But wedding videography is so much more than that. A professional videographer has the equipment and the know-how to capture your day in a way that evokes the best emotions, looks beautiful and lasts a lifetime. Like photographers, they're the experts in angles, lighting and locations and can truly tell a story through film. A simple camcorder video or phone video simply won't compare. That said, you can expect to spend just as much, if not more, on a quality videographer as you would a top-notch photographer, so be sure that's factored into your budget before you begin your search. Some photographers also specialize in videography, and vice-versa, so it is possible to get a package deal!
2. Review the basic wedding videography styles.
While of course these styles can vary, modern wedding films typically fall into one of three stylistic categories:
Candid: the documentary version of a professional wedding film. With more emphasis on raw, candid moments happening as they truly unfolded, without cinematic-style panning shots. Candid films do typically include natural audio and sometimes voiceovers and/or instrumental tunes.
Music video: built on cinematic shots spliced together with professional effects and music overlaid, this style usually won't include much personal audio, like vows or speeches, but will show several different aspects of the day set to beautiful songs.
Cinematic:a combination of both! With both raw, candid shots that capture dialogue and natural noises, alongside visuals captured in an epic way that will make you feel as if you're watching a movie trailer of your very own day.
Standard wedding film lengths:
Trailer or Teaser: 1-2 minutes highlighting the most exciting, memorable portions of your day, with very little dialogue. The perfect length for sharing on social media!
Highlight film: 3-6 minutes covering the biggest parts of the day and often just snippets of audio like vows, letter readings and speeches. The video below falls into this category! The video below falls into this category!
Short film: 8-10 minutes long and allows for more complete coverage of the audio elements listed above.
Feature film: 12-15 minutes and longer – a feature film allows for the most storytelling – often including voiceovers to tell backstories, audio from parts of the day not covered in other formats and a more complete, inclusive option to re-live your day.
Long-form: this length will include less cinematic-style editing, but should cover the most important parts of the day, your ceremony and reception, just about in their entirety.
Of course, the lengthier the wedding video, the larger the budget required, generally speaking. With this in mind, you can look at various videographers' work and have an idea of what your film will feel like, or if you're not able to tell, ask them what type they specialize in. Many videographers will offer a pairing of a trailer-length film along with a longer format so you can have multiple options to share.
3. Cover your bases.
Once you've found a videographer you feel a connection with, it's time to ask a few specific questions if you can't readily find the answers. Look thoroughly through the contract and make sure expectations are clear about turnaround time (the industry standard for wedding videos is about six months, although some wedding films can take up to a year to finish). In what format(s) will they deliver your video, and is it a format that will allow as much longevity as possible? A DVD probably isn't ideal for the long haul, but you may want another tangible option rather than only having your film available online.
Think about the important what-if questions like what will happen in the event of bad weather, of a reschedule, or if the videographer can't make it for some reason? If your wedding requires the videographer to travel, which costs are you responsible for? Does your videographer have insurance and a license to legally fly drones, if they'll be using that type of equipment? Do they only use legally licensed music and songs in post-processing? Make sure all your bases are covered!
Just as you would give the same heads-up to your photographer, you'll want to let your videographer know if there's anyone or anything they should make sure to capture, while at the same time, trusting them to film your day beautifully without much direction from you (remember, it's their job! They do this all the time.)
4. Get ready to be mic'd up.
If you've chosen a wedding videographer who will include voices and audio dialogue as part of your final film, they'll likely need to use various audio equipment to clearly record things. You may have a small microphone and wire attached to you for part of the day, or be asked to hold a microphone at some points. The videographer may need a block of time on your wedding day to get certain shots that will add to the quality of your film – so just be prepared and trusting of their needs. It will all be worth it in the end!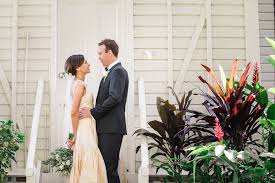 How To Choose A Great Wedding Videographer
Not all videographers are created equal, and of course it's essential that you choose the best one for your wedding day! Follow these 5 steps to hire an experienced professional to capture your wedding day on film.
Make It A Priority
For some reason, videography doesn't seem to be at the top of everyone's priority list when booking wedding vendors. But as couples start to realize the value in watching their big day back on film for years to come, top videographers are booking years in advance. So in order to land a talented videographer, make it a priority, right up there with booking a photographer and venue!
Browse Local Videos
Resources like The Knot and WeddingWire are great for finding local videographers. Also, don't be afraid to check out local wedding blogs for great examples, or browse Vimeo for inspiration. You may even be able to find a film from your venue, which is a great opportunity for you to picture your day.
Read Reviews
The best way to gain insight into what it will be like to work with a videographer on your wedding day, is to read the reviews from others! Again, The Knot and WeddingWire are great places to look, but also reference Facebook, Google, or even Yelp! Look for detailed reviews that mention how it was coordinating together before the wedding, interacting on the wedding day, and accomodations post-wedding.
Know Your Budget And Non-Negotiables
One of the first things we say to every couple is follow your heart and go with your gut. Don't pick someone because they are the cheapest. Find a videographer who creates films you love and resonate with. Choose a videographer who makes you feel comfortable and relaxed.
In saying that – you do need to know your budget, so you know what packages to enquire about or you have a conversation starter when you contact a videographer for a custom quote.
Understand what your non-negotiables are and what you're willing to let go of to secure the best videographer for you. For example having two videographers may be a non-negotiable for you, but having drone footage might be something you can live without. If you know what you're willing and not willing to let go of it can help you identify the best package, price and videographer for you.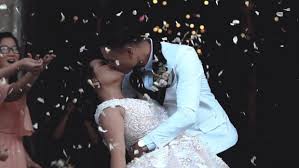 Choose Someone Who Matches Your Style
Most importantly, the best videographer will create films that you absolutely love. When you're watching different videos, try to pick up on things such as music, audio quality, video quality, and transitions. Jot down notes about what you like (and don't like) as you watch!
Communication and Confidence Is Key
If you want to be your videographers favourite couple communicate with them clearly before the day and on the day be confident in front of the camera.
Leading up to your wedding day make sure you send your final payment off to your videographer in time and let them know any last-minute changes along with all the information they've requested before the day.
On the day acknowledge your videographer but ignore the camera – this isn't an episode of The Office – don't spend the entire day kissing and then staring down the barrel of the lenses! It's easier said than done but the more you can ignore the camera and forget you're being filmed and focus on each other the better your wedding film will be.
Your photography and videographer have one goal in mind – to capture you both being in love and enjoying your day.
They want to capture you both laughing, kissing, loving each other and having fun with your friends and family. The more you can do that the less direction they'll need to give you and the more relaxed you'll feel on the day.